Peer Education Recognition Opportunities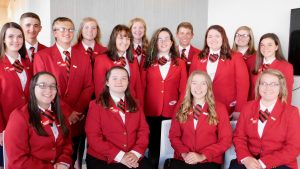 Get involved with Nebraska Peer Education!
Outreach Project

Each of the three Nebraska State Peer Education teams offers a wide variety of recognition opportunities. Through Family Leader, Community Leader, and Career Leader programming, chapters can be recognized for their outstanding efforts.  
The Nebraska FCCLA Family Leader Team, which focuses on Families First, will be recognizing November as National Family Month.  Chapters are encouraged to do a project that brings awareness to these issues during the month. National Family Week Ideas 2019-20
The Nebraska FCCLA Career Leader Team, which focuses on Financial Fitness is celebrating various days throughout the fall semester.  FCCLA chapters are encouraged to plan an activity that focuses on gaining money management skills and knowledge and engaging with entrepreneurs in their community. Financial Fitness Money Smart Week Poster 2019-20
The Nebraska FCCLA Community Leader Team focuses on Student Body. The Community Leader Team is celebrating September as Mental Health Awareness month. The Community Leader Team encourages chapters to participate with activities that promote mental health and spreading awareness of mental health.
These report forms are due before February 15th.  All chapters that complete the report form will be recognized at the Peer Education Conference held in Kearney on February 23rd and 24th.  For more information, contact any members of the respective teams.
SPOT Outreach Project Application Fillable
Capture the Action
In addition to these recognition opportunities, chapters can apply with outstanding projects related to each of the three National Programs represented.  Families First, Student Body, and Financial Fitness National Programs provide valuable peer education opportunities for students.  These projects can take place at any point during the year.  The top three projects in each National Program will be recognized at the Peer Education Conference.
The FCCLA Family Leader Team invites FCCLA members and FCCLA chapters to get involved in Families First projects this school year.  
FCCLA Chapters who participate in a Families First project this year will be recognized at the State Peer Education Conference.  You also can submit a photo of your activity for the Capture the Action Chapter Award.  A reporting form is available on the Nebraska FCCLA Website. 
To complete a Capture the Action application, simply submit a picture and short description using the form provided.  This is a great way to share the unique ideas that your chapter is incorporating as well as receiving recognition for those outstanding projects at the Peer Education Conference.