2020 Nebraska FCCLA Virtual NLC Press Release


FCCLA National Leadership Conference
June 27-July 1, 2021
Nashville, TN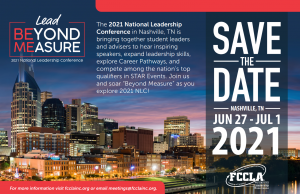 Stay informed with the latest information from National FCCLA for the National Leadership Conference here.
Staying Connected
Stay tuned on the FCCLA Listserv and with the Fast Facts newsletters for more information.
FCCLA 365 App
All conference attendees are encouraged to download the free FCCLA 365 App. From this app you will be able to access the conference schedule, receive push notifications about room updates, and complete a variety of activities and evaluations. This app is available in the Google Play and iTunes stores for free.